Premium Balcony Waterproofing Systems and Solutions
We Are Specialists In Balcony Waterproofing Systems in Johannesburg
As specialists in waterproofing, we offer premium balcony waterproofing solutions at competitive rates!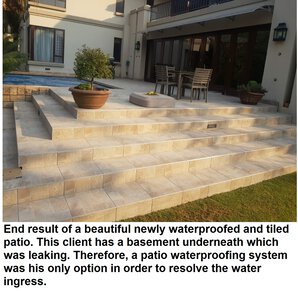 Balcony waterproofing is a specialized waterproofing system. It is very important that the new balcony waterproofing system is suitable for your balcony surface specifically. There is no "one solution fixes all". Therefore, every area is assess individually.
Balcony leaks are common. Additionally, many property developers choose to exclude specialized waterproofing on balconies which is why we see a lot of leaking balconies in apartment estates. If not properly waterproofed, a leaking balcony will cause a multitude of problems.
Many waterproofing products can't withstand structural movement and cracks. Therefore, damaged or leaking balconies cause extensive water damage. Especially those that are located above other internal rooms on a property. Thus, resulting in damp, peeling paint and other severe structural problems that are costly to repair.
This is why it important to hire experts in balcony waterproofing.
Balcony Preparation Prior To Waterproofing
Surface preparation is vital to the success of the new waterproofing system.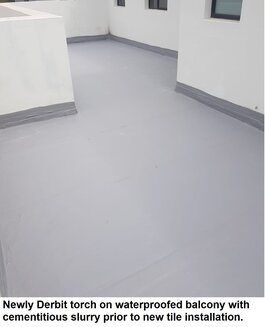 Balconies must have a minimum slope of one degree and provisions for drainage. Surfaces are primed prior to the new dual reinforced waterproofing system is installed.
The substrate needs to be dry, clean and smooth. Additionally, it needs to be free of any voids, protrusions or contaminants.
The area must be primed using a bituminous primer and a screed to falls is to be laid on the concrete surface to receive the waterproofing membrane.
​
Poorly Waterproofed Balconies
Many waterproofing contractors install the waterproofing system on inadequate or poorly prepared surfaces. Resulting in further problems. If not executed correctly, balcony waterproofing can result in recurring problems and significant damage. With all of the installations under our belt, our waterproofing system comes with a 5 year guarantee (if tiled over) or a 10 year guarantee. Our professional waterproofing team use only the best, most appropriate and high quality materials and techniques.
Call our waterproofing champions today for a free inspection and quotation.
'WATERPROOFING CONTRACTORS DRIVEN TO MAKE A DIFFERENCE'