Waterproofing Roofs By Gauteng's #1 Professionals
Leaders in Roof Waterproofing throughout Gauteng
As specialists in waterproofing roofs, we understand water leaks can be costly. At Apex Waterproofing, we are committed to premium quality waterproofing solutions.
Before we get into what roof waterproofing solutions we offer, we want to highlight the DON'T's of waterproofing roofs:
DON'T let a waterproofing contractor spray a 'waterproofing rubber' on your roof. Our team have had to replace several roofs due to the client being sold a spray-on waterproofing rubber. Unfortunately, this rubber system ends up creating more leaks than what client's originally experience. Due to this, roofs need to be replaced as there is no way of removing the rubber from the roof.
DON'T let someone tell you that you need repairs in areas that you are not experiencing leaks. We often receive feedback from clients saying they were told by other waterproofing contractors to repair or recoat areas that are in perfect, sound condition. There are many waterproofing companies that do not have your best interests in mind and will try make an extra buck where they can. Always ensure you receive at least 3 separate quotes from 3 separate waterproofing contractors.
We are a premium waterproofing company specializing in high quality waterproofing solutions. We offer tailor made waterproofing solutions for the following roof types:
Flat Concrete Roofs
Many people believe that flat roofs are the most expensive and most daunting roof type to have on your home. This is not true. In fact, waterproofing a flat roof with high quality torch on waterproofing membrane with a coating of bitumen aluminium paint is cheaper than you think. Not to mention more durable and long lasting than any other waterproofing type.
Flat roofs need to be inspected as often as any other roof. Do you have a poor quality waterproofing membrane on your roof? Did you employ a waterproofing contractor without doing your research first or asking questions? you may experience leaks or a problematic roof.
However, flat roofs are easy to manage. Additionally, they are pretty hassle free compared to tiled roofs and metal roofs.
Concrete roof waterproofing with Apex Waterproofing will reduce your building's carbon footprint and minimize structural depreciation. Our specialised team offer high quality, seamless waterproofing systems.
Tiled Roofs
Tiled roof waterproofing and repairs can be complex. More complex than concrete roofs. Only because in most cases, the leak area that is the source of the water ingress is not always where you would suspect it to be. This is because water travels a lot more under tiled roofs and so the source of the leak could be on the opposite end of the house.
Tiled roof ridges can also cause problems. Our roof waterproofing solutions for tiled roof ridges are to caulk all the loose mortar from the roof ridges with a specialized latex modified repair mortar. Thereafter, we apply a specialized waterproofing acrylic and membrane to all the joints. This roof repair solution normally comes with a 2 year guarantee.
Metal Roof Repairs
Metal roofs have a variety of roof waterproofing solutions. You can either repair your current roof should the leaks not be too severe. Or you can replace your metal roof which is cheaper thank you would think. Alternatively, you can have a boarded roof waterproofing system installed.
Boarded roof systems are fun! They include shutterboards, high quality torch on waterproofing membrane (literally, the best brand membrane on the market today) and then either a bitumen aluminium coating or a specialized roof paint to the colour of your choice.
We also have the option to coat your metal roof with a heat barrier roof coating. This coating is so effective, it has reduced the interior temperature of some of our client's house by up 8 degrees! The heat barrier coating is a double coating system.
Slate Roofs
We don't do a lot of these as it is a roofing system that is still very new to the market so we do not find many houses with this roof type installed. However, a slate roof follows a similar roof waterproofing system as a tiled roof. Except we install a specific slate roof underlay (as opposed to tiled roof underlay). Slat roofs are more expensive to repair than tiled roofs.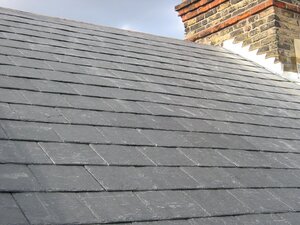 Call our waterproofing champions today for a free inspection and quotation.
'WATERPROOFING CONTRACTORS DRIVEN TO MAKE A DIFFERENCE'