Expert Core Drilling Services in Johannesburg
Do It Right The First Time with Our Expert Concrete Drilling & Cutting Team.
Core drilling provides a reliable and flexible way to prepare for construction work such as plumbing and electrical services, telephone cables and ventilation shafts.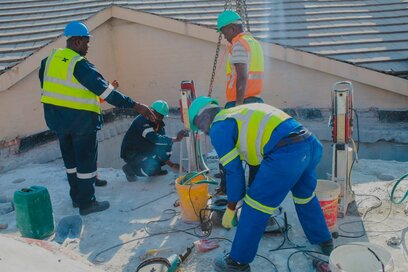 Whether you're in the construction industry or busy with a DIY project at home, times may come when you need to make a medium to large size cylindrical hole in brick or concrete. This work type needs a core drill and core drill machine. This is a drill that cuts a hole and removes the core (the centre part of the hole) as it drills. Because this is a more specialised tool,
Core drilling is a faster and efficient way of cutting round holes through concrete and other materials. it is effective in creating holes that are precise and it reduces dust and damages to surrounding areas. There are no vibrations or noise during drilling operations. This method allows for cutting horizontal, vertical and angular holes.
We can drill through concrete slabs or blocks, asphalt, brick and more. Our trained specialists cut and drill holes for plumbing pipes, electrical cables, air vents, air-conditioning etc. We are based in Johannesburg and offer stitch core drilling to open larger holes, when other methods are not viable.
Water controls the core bit temperature. Thus ensuring effectiveness and reducing dust. Knowing that core cutting can be messy sometimes, our team will take careful consideration for mess prevention and were necessary will clean up.
Stitch Core Drilling
Stitch core drilling is a technique used to form larger, irregular holes. It is used to overcome the limitations caused by the maximum size of core drills and other machines. Regardless of thickness and reinforced material.
Call our waterproofing champions today for a free inspection and quotation.
'WATERPROOFING CONTRACTORS DRIVEN TO MAKE A DIFFERENCE'